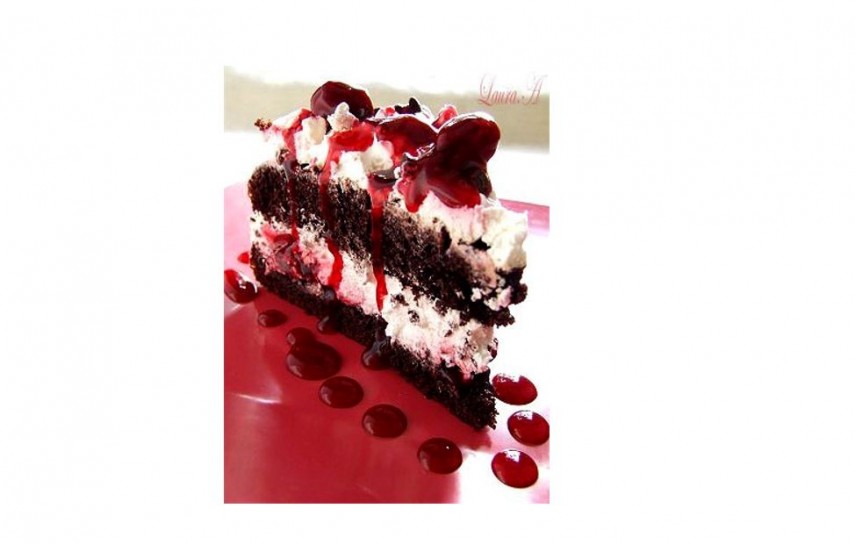 March 28th is Black Forest Cake Day.
The cake itself has a long history, having first appeared in Schwarzwalder (Black Forest) in 1915.
Step-by-step recipe by Laura Adamache
Black Forest Cake (Foret Noir) is a very simple and delicious cake. The top of this cake differs from the original recipe as eggs are among the ingredients. The countertop recipe is more special because we use a relatively large amount of milk compared to the solid ingredients (flour, sugar, cocoa).
So the worktop composition is more liquid and therefore longer baking time is required. In the end we will have a delicious cake with a moist texture. I recommend doing a toothpick test before taking it out of the oven.
Ingredients – Black Forest Cake (round shape 22-24 cm ø)
200 g flour

250 grams of sugar

70 gm cocoa

450 ml of milk

35 ml oil

1 sachet of baking powder
Filling Ingredients – Black Forest Cake
400 ml of sweetened sour cream for whipped cream
Cherry or cherry compote
Preparation – cake top
Mix the flour, baking powder, sugar and cocoa, then gradually add the milk and oil. The consistency will be too liquid but that's how it should be. We pour out the dough in the form of 22-24 cm, lined with butter and flour.
Put the figure in a preheated oven at 160 ° C for 45-50 minutes.
Since every oven bakes differently, be sure to test with a toothpick before removing the work surface from the oven. It should come out clean, otherwise leave the top to bake for another 5-10 minutes.
Cut the top into 2 after it cools completely.
You brought me kirschgrütze (cherry jelly) from Germany, but you can use cherries or cherries from previously dried compote.
We put on the first sheet of tops, cherries or cherries (there is no specific amount, it is important that the surface of the top be evenly covered with cherries).
Form a uniform layer of the whipped cream, mix well, and add the second layer on top, which we decorate with the remaining whipped cream (100 g), a few cherries and dark chocolate chips.
We leave it in the refrigerator for 30 minutes, after which we can serve it. I didn't coat the edges with anything, but to give a look similar to the original Black Forest cake recipe, I covered the edges with a layer of whipped cream and brushed it with grated chocolate.
It is delicious and easy to prepare. Bon appetite!
Image text source: lauaradamache.ro.
.